Eternal Revenue System
If you're one of those who dream of working from home...
The Secret To Recurring Income
Is About To Be Revealed
We have created, tested, revised, tested some more, revised some more,
and continue to test even more, our nearly perfected system of earning

recurring income

from the Internet...
And now we are going to share it with you...
#EternalRevenueSystem
Date:
From: Walter Ross
Re: The most important letter I've ever written...
First off, this is not easy.
It isn't easy to really convey what I want to convey to you, so that you realize just how important this really is.
The main difficulty that I have is trying to convince you to listen to me for just a few minutes so that you can understand the full potential of what I am about to share with you right here.
Putting all hype aside, let me say just one thing...
You Are Doing It All Wrong
And to be honest with you, it isn't really your fault. Furthermore, I'm not going to say it's the fault of all the other marketers out there, and I am the only one you should listen to.
That's simply not true. I have personally learned a TON from other marketers, and have made a lot of money because of it.
I'm sure you're wondering what I am talking about, so let me start with a bit of a background story...
Once upon a time, I ran my business all wrong...
That's right. I'm not perfect (surprise!). In fact, I make tons of mistakes. But there is one mistake that has cost me the most in terms of money, peace of mind, and security.
You see, a few years ago I started my own Internet marketing business, selling courses in a market that had nothing to do with Internet marketing.
Within my first year I grossed about $150,000 in revenue, and I was overjoyed because of it!
In that same year, I also...
Paid myself close to $80,000 (the rest went to expenses and to future projects)...
Sounds wonderful, doesn't it? I sure thought so.
But that still didn't change the fact that I was doing it all wrong and that I was dooming myself towards failure.
And because of this fatal mistake, something happened that I wasn't expecting...
I almost went bankrupt...
How on earth could I have come close to bankruptcy when I had almost made $100,000 the year before?
Simple. I made the same mistake that you are making right now. I didn't run my business in a way that could really give me any security.
Here's what happened: first off, the business that I started that previous year failed. It didn't fail because my products weren't any good. It didn't fail because I didn't have a list (I had one). It didn't fail because I did something illegal.
It failed because I had to leave that market.
And that leads me to...
Mistake #1 - Choosing the Wrong Marketplace
I won't go into all the details, but I simply could not continue ethically selling products in that market and still be able to sleep at night.
Changes in that market forced me to make the choice to abandon my 6-figure business and start from scratch.
No big deal, right? I'll just repeat what I did the year before!
Well yes, you'll see that is coming soon, but it still left one HUGE gap wide open that would almost cause me to go bankrupt...
TAXES!
You see, when you make money, the government wants their share. Strange, isn't it?
Well, I wasn't used to that idea, as every year before that I would always get tax refunds, not tax bills!
And boy did this year hurt, because I got slapped with a $12,000 income tax bill, and worse yet, I had made...
Mistake #2 - No Recurring Income
My business was not set up to continue paying me money. In order for me to make more money I would have to work harder and harder to keep up with the newer demands of that business.
So when I got hit with a large tax bill, I simply had no income to pay for it. What was worse was that I was now providing for a family and had to pay a mortgage, along with all the other bills that come with having a house.
Have you ever been in this situation before?
Maybe you haven't been hit with a huge tax bill, but have you ever had times when you wondered how you were going to pay the mortgage, or how you were going to buy groceries?
If so, then you can probably empathize with my situation.
Suffice it to say I didn't enjoy it. In fact, it was one of the worse feelings that I had ever experienced!
However, I am not easily defeated, so...
I pulled up my socks and went back to work...
No, not back to a J.O.B., but back to work building a new business, this time hopefully not repeating the same mistake that I had made.
I started my new business the best way I knew how, I created a useful product. I then applied the traffic methods that I knew worked, and within 12 months..
We grossed $300,000 in sales and commissions...
Not bad, eh? In fact, it sounds like a happy ending!
I'd like to say that was the case, however, I still was making mistake #2, and soon I was about to make...
Mistake #3 - Growing Faster Than You Have Strength
I wasn't prepared for the rapid growth that I experienced, so I simply didn't have the time to keep up.
So what did I do? I hired a bunch of employees to help me out!
That's not a bad idea, is it? No, of course not.
In fact, at the time I had more than enough revenue to cover the cost of an office and employees. However, I was still making mistake #2 (not building recurring income), and it was about to "bite me in the butt" so-to-speak.
Want to know what happened? I'll tell you right now...
We grossed almost $600,000 in sales and commissions!
Now wait a second...
...how is that a bad thing?
It's not! The bad thing was that it was very sporadic, and very unpredictable, to the point where some months I was wondering if I could pay my employees, and others I had no problem.
I was experiencing "product launch fever"...
Know what that is?
It is when you are focusing on launch after launch after launch of new products in order to continue making revenue.
Some of those launches were great (one did $250,000), others sucked (my worst one did about $300), but when that is all your are relying on to make an income, you simply can't survive.
I had to do what I didn't want to do, I laid off most of my employees and started rethinking about how I was doing business.
I started to look over expense reports and income reports. I wanted to find out where I went wrong.
That's when I discovered "it"
I couldn't believe it at first. But then I looked closer.
There was something in the reports that took me by surprise. It was something that I wasn't expecting at all.
It was a regular source of income that was coming in month after month after month, WITHOUT fail.
It was a product that was bringing me recurring income, and I didn't even really realize it!
The product was a service that cost only $19.95 per month, and it was making me thousands of dollars every single month even though I hadn't really done any marketing to it in a while.
I hadn't even noticed it! The $19.95 payments to my PayPal account looked so little that I didn't realize how much they were adding up to.
Let me put it this way to make it clearer...
If it wasn't for that recurring income, my business would have failed a second time...
I was saved by something I was unaware of. I was saved by recurring income.
That's when I stopped making mistake #2, and really started to stabilize my income.
Which would you rather have?
An unstable, unpredictable income?
A stable, predictable income?
Seems like a dumb question, doesn't it? Then why are most marketers out there creating unstable, unpredictable incomes?
It's because they don't know any better...
Allow me to be clear here. If you want to make a lot of money, and have that turn into a steady income, then you need to realize that this is not achieved only by:
Selling expensive products...
Not that those things are bad, in fact, they're great! But only if you have one goal in mind:
RECURRING INCOME!
Come on, say it with me: Recurring Income!
Ok, now we're ready to get to the good stuff.

Before you read any futher, read this...
What I am about to show you here is not a simple quick-fix to gettin'-rich scheme, so if that's what you're looking for, just close your browser.
This is a system that I have tested, improved, retested, reimproved, reretested, rereimproved, and so on and so forth until it was at where it is now.
This is a system for growing a powerful business in a very short period of time.
However, like any other real business model, it will require work, and some investment of both time and money.
The benefits are huge, but will not be realized by the faint of heart or by those that find excuses to their own failure. You MUST be prepared to put this into use.
If you are prepared for that, then please, read on.
The Eternal Revenue System...
Sounds fancy, doesn't it?
I'll be honest with you. It's not actually that complex. Sure, I have put a lot of time and experience into this, but I'm not going to teach you...
...some hidden tactic that allows you to get #1 in Google.
...some secret site that will make you millions every year.
...some unknown strategy that will make you $100,000 in the next few days.
...some new technology that you need to jump on while it's still hot!
I'm sorry, but I prefer tried and tested strategies that will continue to work for years to come.
Don't you?
So here is what the Eternal Revenue System is all about (can you guess what?)...
Recurring Income
What a shock.
It's like I've learned something from my experiences. ;)
Allow me to introduce you to a course that will change the way you look at your Internet business: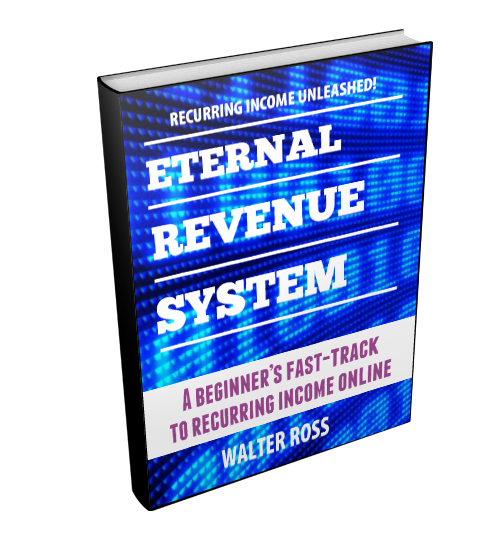 I probably can't really express how much work went into this course, which will form the foundation for your Internet business.
In short, it outlines how to quickly build a 6-figure business within one year, and how to continue making more and more money afterwards.
(Earnings disclaimer: I obviously cannot guarantee any amount of earnings, mainly because I don't even know if you will apply what you will learn. However, if you do apply what I will teach you, it will be very hard to fail.)
Here are just some of the benefits that you will get from this course:
Chapter 1 - The Eternal Revenue System
I've already told you the secret to steady income (i.e. recurring income), however, there is still the question of "how."
That is why I start off by teaching you what the Eternal Revenue system is.
In chapter 1 you will discover:
How you can (realistically) build a $12,000 per month income within one year (page 11)
The entire Eternal Revenue system in a nutshell (page 9)
Why 99% of Internet business owners fail (page 8)
Why my lawyers get up-tight about this course (page 7)
Chapter 2 - Who on earth are you gonna sell to?
There's no point starting a business if you don't first decide who you are going to sell to.
Choosing a niche market is not always easy, but I can help a lot by simplifying the process for you.
In chapter 2 you will discover:
How much time you should spend choosing a market (page 12)
The four-step method to finding a profitable market (page 13)
The three types of high-profit markets (page 14)
The three "litmus tests" that you can apply to almost instantly know if a market is profitable (page 18, 22, and 27)
Chapter 3 - Makin' Your First Product Eternal-Revenue-Style
Once you know who you are going to market to, you need to make high-value products that they will want to buy.
However, it's not obvious how to do this right, which is why I outline exactly what to do.
In chapter 3 you will discover:
Why creating your own products is essential to profits (page 32)
The Eternal Revenue Quick and Easy Product Creation system (page 33)
How to choose a hot topic that will make others WANT to buy from you (page 34)
What to do if you aren't an expert on the topic but want to sell it anyway (page 37)
Chapter 4 - Sellin' Your Product to the Masses
Is it really enough to just have a product? Of course not! You need a website to sell it on!
Unfortunately most people think they have to know everything about HTML and web design before they can do this. Chapter 4 will teach you otherwise.
In chapter 4 you will discover:
What is truly needed to sell products online (page 44)
The big secret to getting over the hurtle of technology (page 47)
Why most web designers don't know anything about Internet Marketing (page 49)
The structure you need to know to make a profit-pulling website (page 50)
Chapter 5 - Gettin' Eyes On Your Site
Alright, you will soon have a market, a product, and a website, so what's missing?
TRAFFIC! This is the chapter you've been waiting for - how to get traffic to your new website.
In chapter 5 you will discover:
Whether or not you should even use Google Adwords (page 72)
Two powerful "freeish" methods of driving more targeted prospects to your site (pages 74 and 79)
My favorite method of driving traffic - JV Partners (page 83)
How you, a beginner with a small (or non-existant) list can get JV partners to promote for you (page 85)
Now, this may seem like a lot of information, and well, it is! However, I promise to lay it out for you in a way that will be easy to learn and even easier to implement.
So how much is this going to cost me?
That was a tough decision for me to make.
With all the work that I put into this product, I seriously wanted to charge $197 for it to make up for my time, and because I knew that it would be worth every penny.
However, since this is a course aimed at absolute beginners, I decided to make it MUCH more reasonable for anybody who is serious about starting their own business.
That is why I am only charging $27 for this course.
However, I want to add another bonus to make it worth your while...
Even though the course is worth at least twice the price I am asking, I want to throw in an extra bonus that will help to persuade you to make the right choice.
Here they are:
Bonus - Eternal Revenue System Part 2 course
Value: $27
Part 1 (what you are purchasing today) of the Eternal Revenue System course covers how to get started. However, Part 2 covers how to create your recurring income after you have started your business.
Normally this is sold separately for another $27, but you can get it today for no extra cost!
More Bonuses For You!
1. Membership Masterplan
Discover The Steps On How To Start Your Very Own Recurring Membership Site And Get Paid Month After Month. In This Course, You'll Find Out How To Get Started With Your Own Membership Site, How To Structure it, What Type of Content To Provide, Pricing And Much more. A $9.95 value.
2. Accelerated Membership Profits
Uncover the failproof strategy to building high-profit membership sites in just 3 days or less - guaranteed! It doesn't matter if you have never been successful before. These proven strategies will set you on the fast track towards passive, lifetime profits. Create an automated income system that continues to funnel in payments and generate passive income for years to come. A $9.95 value.
3. Membership Sites Masterclass
In this video you will learn advanced strategies to create easy instant membership sites to generate revenue and increase customer value. A $17 value.
4. 60 Ways To Get More Traffic To Your Website
Traffic is vital for any online business to succeed. This report provides 60 effective ways to generate free traffic to your website.
All these great resources worth $36.90 yours FREE when you order Eternal Revenue System.
This is a digital download, therefore please note that there will be no refunds.
All sales are final and non-refundable. By placing your order
you agree to abide by this no-refund policy.
In case you want to preview a free chapter before you buy,
click here to get the free chapter for preview (opens in a new tab).
YES Walter! I want to download the Eternal Revenue System immediately!
Let me in at the price of $27...
Note: You do NOT need a PayPal account to purchase this membership. You can order 24 hours a day, 7 days a week, 365 days per year!
To your success,

Walter Ross
P.S. Which are you going to be? The person who dreams of working from home? Or the person who finally takes action and actually works from home?